Umbreen has over 16 years' experience in direct marketing and customer communications.  And has worked as a campaign manager across a number of industries including financial services, utilities and the weight loss sector.
An all-round marketer, Umbreen has significant experience in managing marketing projects using both digital and traditional media.  She is also an accredited copywriter.  Making sure key messages are on point at all times, she can produce creative web copy and online content which is written to engage and optimised for search.
Tracy Barlow

Web Designer
Tracy has a love for all things digital!  With a passion for bringing things to life, her personal motto is:  'Dream the impossible, live the dream…never stop believing'.
If you don't dream it, you won't see it;  and if you can't see it, it can never happen!
Having 8 years' experience in web design and development, Tracy has a passion for beautiful designs and a flair for the creative.
Originally from South Africa, she moved to the UK in 2011 and currently lives in Reading, Berkshire with her wife Zané and two cats, Fuzz & Lily.
Matt Noble Wright

Copywriter
Matt is a copywriter with a financial background who understands how to interpret, communicate, and simplify complex themes to targeted audiences.
His practical understanding of how businesses work and what customers need, allows him to create a competitive edge when producing marketing copy.
He has worked with many industries, from professional services (banks, accountants, solicitors) to retail (restaurants, hotels, shops), producing a wide range of copy, from White Papers to Case Studies, to websites.
Based in the lovely village of Hazlemere, Matt is a keen runner and cyclist and we're super pleased to have him as part of the Sanzen team!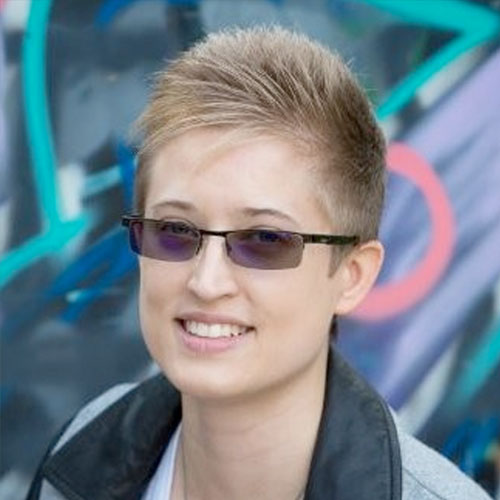 Elle Tull

Graphic Designer
A brand and print specialist with 10 years of print industry experience, Elle creates logos and bespoke marketing collateral for corporates, organisations, and individual businesses.
Whether you're a start-up that wants to launch with a bang or an established company embarking on a new chapter, Elle provides a collaborative service that gets to the heart of what you want to achieve and turns it into a powerful visual asset.
In her spare time, Elle takes care of her canaries – and dog sitting!
Get in touch
Our team loves everything digital, but we're still fans of good old fashioned human interaction!